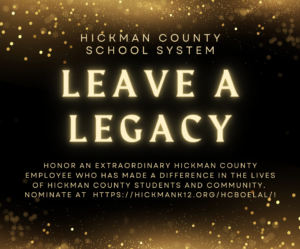 The purpose of the Hickman County "Leave a Legacy" program is to honor extraordinary employees that worked for the Hickman County Schools System and made a significant difference in the lives of the students and communities in Hickman County. This recognition program honors the school system's most outstanding employees.

Nominations requirements are as follows:

1. At least 25 years of service to the Hickman County School System
2. Retired from the field of education or from employment with the Hickman County School System
3. The official nomination form must be completed, to include:
A. Education, teaching experience, work experience, and special recognitions
B. Letters of support or recommendation

The Director of Schools appoints the selection committee, which reviews all nominations. Nominees not chosen the first year may be considered for up to five years.

Employees selected for the Hickman County Leave a Legacy program will be recognized at a formal induction ceremony in the Fall of each academic year. Photos of the recipients will hang in the location of their service and a biography of their service will be included under their photo.
Nominations are accepted year-round.